It's time for us to take our hats off to the generous sponsor partners helping us launch #selfpubcon2019 to indie authors around the globe. Twenty-four sessions, on the hour, every hour, all designed to move the needle for us toward the holy grail of all things self-publishing: sell more books!
Gold Sponsor: IngramSpark
For the fourth year we welcome, with wide-open and grateful arms, IngramSpark as the Gold Sponsor of #selfpubcon. (They're also Specialist  Sponsor of the Advanced Self-Publishing Salon Podcast with Orna Ross and Joanna Penn.)
About IngramSpark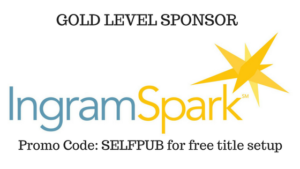 As Mike Shatzkin, founder & CEO of The Idea Logical Company and a widely-acknowledged thought leader about digital change in the book publishing industry said at DigitalBookWorld 2019, Amazon would not have existed without IngramSpark. Did you know there are sixteen million titles in the IS database? Ya, that's big.
If you don't already know, IngramSpark is an award-winning independent publishing platform, offering indie authors and publishers the same fully-integrated print and digital products and global distribution enjoyed by big-time publishers. Once you finish and format your book, IngramSpark makes it possible to share it with the world, allowing you to focus on creating innovative content while they do the rest: print, ship, and distribute.
IS's focus is on supporting the author not only as a printer and distributor but as a resource for overall publishing success.
As a special offer in conjunction with ALLi's Self-Publishing Conference, IngramSpark is offering free title setup on print books and ebooks. Just use this promo code:
SELFPUB
Valid until 31st December 2019
Find out more here.
Silver Sponsor: Chanticleer Reviews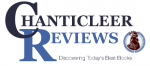 We had so much fun with Chanticleer at London Book Fair 2019, they decided to come back as Silver Sponsor of #selfpubcon2019. Welcome back, and thank you!
Chanticleer discovers today's best books with editorial reviews of audiobooks, digital books, print books, and interactive books. We also offer the prestigious Chanticleer International Book Awards.
Special Offer for conference attendees: 20% discount on any Chanticleer Review, AudioBook Review, or Early Reader Review or Chanticleer International Book Awards entry fee.
Coupon Code: ALLILFBKBCR
Valid until March 31, 2019.
Visit Chanticleer's website to learn more.
Silver Sponsor: ProWritingAid

We're delighted to bring ProWritingAid into the #selfpubcon sponsor family as Silver Sponsor.
What's not to love about ProWritingAid? It's a grammar guru, style editor, and writing mentor all in one package.
"We all know that there is a lot more to good writing than just correct grammar, and we have created our software based on the same ideas you would learn in a university writing course," says Lisa Lepki of Pro Writing Aid.
ProWritingAid addresses readability issues like passive and hidden verbs, over-use of adverbs, repeated sentence starts, emotional tells, and more. Sound like what you might get from your professional copyeditor? Yes. By tightening your text first, your editor can focus on the more important aspects of your work, such as tone of voice, narrative, and character development. What do you get as a reward? A more polished piece of writing.
ProWritingAid for the pro writer.
Session Sponsors
BookBub

Getting your books discovered in today's crowded marketplace is a challenge, but BookBub has the tools you need to reach power readers hungry for their next great book. Through their website and targeted email newsletters, authors can increase sales and find new fans by promoting their books to the millions of readers who use BookBub to discover new books every day.
Bookbub is sponsoring their own #selfpubcon2019 session, delivered by Carlyn Robertson.
Cameron Publicity and Marketing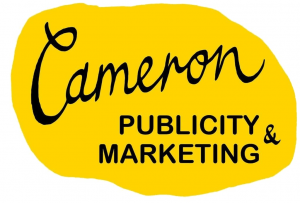 Session sponsor Cameron Publicity and Marketing founder Ben Cameron has over twenty years of experience in book publicity, publishing and sales with both traditional publishers and self-published authors. In 2006 he created Cameron Publicity & Marketing to offer the same marketing services that large publishers benefit from to all authors. Ben and has worked on hundreds of campaigns for independent authors on pretty much every subject imaginable.
Cameron Publicity and Marketing is sponsoring Ben's #selfpubcon presentation. And they offer a 10% discount to all ALLi members (another reason to join!).
PubMatch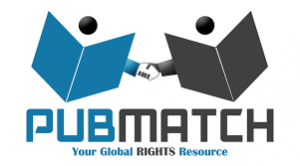 More and more, authors and publishers all over the world are learning about the incredible opportunities available in foreign and translation rights sales. With a complete suite of management tools, PubMatch equips both buyers and sellers to connect, promote, and conduct rights deals in an intuitive, time-saving, and cost-effective way. Rights holders have never been in a better position to make the most of their international potential. From negotiation and title management to generating catalogues and sell sheets, PubMatch is working to bring the future of the rights business into the present.
PubMatch is sponsoring the session by CEO Jon Malinowski on – you guessed it – rights!
Pub Site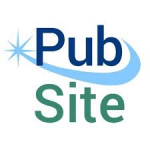 Pub Site is the easy-to-use website builder designed specifically for books and authors. Pub Site allows authors to choose and customize a design and layout of their website, easily add bookseller buy buttons, a mailing list sign-up and social media links, start a blog or import an existing one, add video, author appearances, ecommerce, and more. It's so easy to use that anyone can have a professional looking website up and running within an hour. 

Pub Site's low-cost setup packages start at $399, (Yes, you can use your own domain name.) They're offering a special for #selfpubcon: $299 instead of the regular $399. To get started with the special offer, click here. 

Here's where you can view a portfolio of websites.