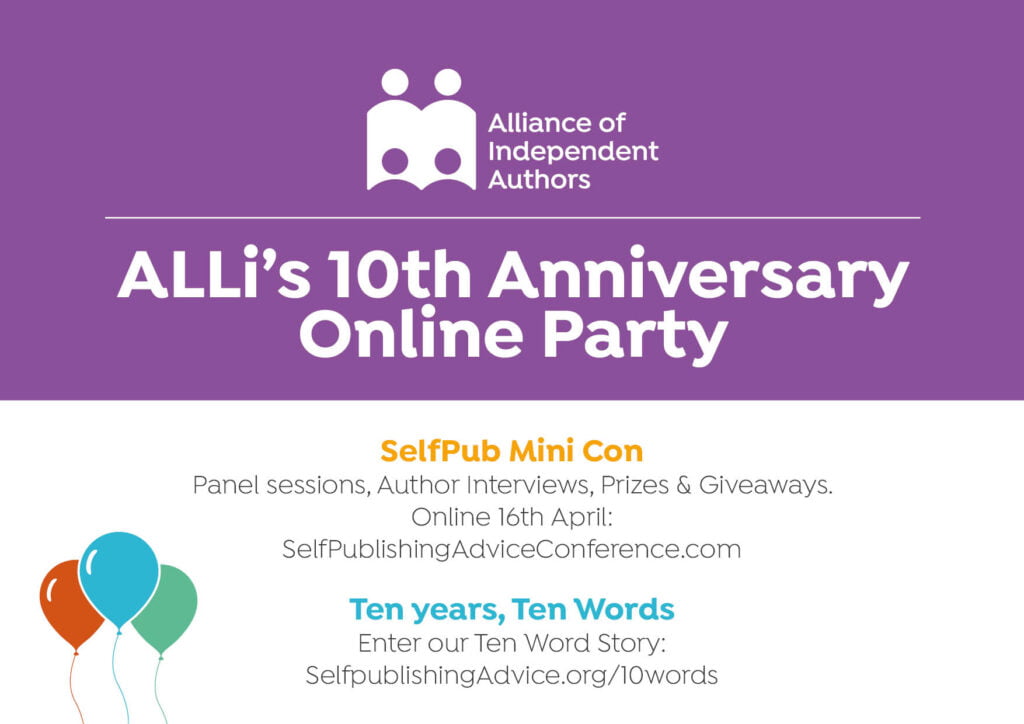 It's party time! We're having a self-publishing mini-conference and online Celebration for The Alliance of Independent Authors 10th anniversary–and we'd love for you to come.
It's happening on April 16th from 6pm to 10pm (UK time).
We're calling it #selfpubminicon22 on social media and the event is being designed so you can drop in and out, as you fancy on the day—or, even better, stay and have fun for the whole four hours.
We'll have lots of learning going on, and also lots of fun and games.
Panel session about Authors and the Creator Economy from Orna Ross, Joanna Penn, and Michael Anderlé, recorded at the London Book Fair.
Book marketing presentation from Joshua Schwartz CEO of Pubvendo about how to identify and attract the right readers for your book(s). Plus win a personal one-to-one marketing consultation with Joshua.
Interview with Mark Coker and Kris Austen, the two CEOs, about the merger of Smashwords and Draft2Digital and what it means for indie authors.
Announcement of the winners of our Ten-word Story Competition and grand prize presentation.
Inspirational interviews with indie authors who have achieved notable success on Amazon KDP.
Spot prizes and giveaways.
The action will take place here on SelfPublishingAdviceConference.com. Mark the date, register for free access, and keep an eye on your email inbox for further details.
If you can't attend live, we'll have a recording so you can catch up later. But we hope you'll make it in person. Mark your calendar now! April 16th from 6pm to 10pm (UK time—Click here to convert to your timezone).
We are so looking forward to meeting with you and celebrating this milestone, as well as your commitment to your own writing and publishing.
#selfpubminicon22 Start Time
The conference begins at 6pm BST. Once live online, you'll see the presentations unroll on the Session Feed page--one session per hour, on the hour.
As sessions unroll, they move from the Upcoming Agenda page to the Session Feed.
Clicking the title of the session that interests you on either Agenda or Session pages will take you to the presentation page for that session.
On the presentation page, you can read all about the session and speaker, and any giveaway on offer.
Once live, hit play to watch (check the time in your time zone if the presentation is not showing for you; it may not yet be live)
You can scroll up and down the Session Feed home page to browse and replay sessions once they have gone live.
SelfPubCon Access Passes
If you want unlimited access to this conference, with past or future conferences included, you can purchase an all-access pass.