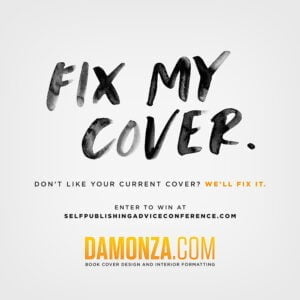 Not happy with the cover of your book? Submit your published book cover to the Fix My Cover competition at #SelfPubCon22!
SelfPubCon22 silver sponsor Damonza.com is inviting attendees to submit previously published book covers that need a make-over.
If you're interested, you'll need to get in fast.
This fabulous offer is running in association with the Self-Publishing Advice Conference only. Entry opens at #SelfPubCon22 on 29th October at 10am and close at midnight on 1st Nov 2022 (UK time), when all conference activities close.
Fix My Cover Competition: How to Enter
Entry to the Fix My Cover Competition is free and fast. Just fill this entry form.
Fix My Cover Competition: Prizes
Four lucky winners will see their cover dreams come true.
Winner: One overall winner will receive a FREE complete book cover redesign (eBook and paperback. Value =$795).
Runners Up: Three runners-up will win a FREE book cover improvement (eBook/front cover only. Value = from $95).
---
Fix My Cover Competition: Terms and Conditions
Find out more about Damonza.com, by checking out their cover design here and their cover improvements here.
The Fix My Cover Competition is being run by Damonza.com in association with the Self-Publishing Advice Conference (SelfPubCon).
The Competition is open to working or aspiring independent authors aged 18 and over. No purchase or entry fee is necessary.
Employees, consultants or agencies of SelfPubCon, Damonza.com, ALLi or their family members, or anyone else connected with the competition, may not enter.
Only one entry per person.
The book cover must have been published already, in other words the book with the existing cover must be available to buy already. This allows the author to compare sales before and after the improvement.
The competition is open for entry at 10:00 hours (UK Time) on October 29th 2022 and closes at midnight (Pacific Time) on November 1st 2022. Entries received after this date will not be considered.
The judging panel is Damonza.com. Winners will be contacted directly by Damonza.com after the competition closes.
Competition entrants are automatically registered for SelfPubCon.
Three (3) winners will be announced from all entries received in accordance with these Terms and Conditions, and one additional grand-prize winner.
Winners will be announced on the SelfPubCon website, SelfPubCon subscriber emails and social media, and in Damonza.com publications, website and social media.
The winner may be required to take part in promotional activity related to the Fix My Cover Competition and the winner shall participate in such activity on SelfPubCon's and Damonza.com's reasonable request. The winner consents to the use by Damonza.com and SelfPubCon, both before and after the closing date for an unlimited time, of the winner's voice, image, photograph and name for publicity purposes (in any medium, including still photographs and films, and on the internet, and in advertising, marketing or promotional material.
Legal T&Cs
All entrants agree to receive emails from SelfPubCon and Damonza.com containing news and offers, and updates of interest. You can unsubscribe from these emails any time by clicking the link in the email footer.
By entering the Fix My Cover Competition, you agree to the collection, retention, usage and distribution of your personal information in order to process your entry and that we may contact you about your Fix My Cover Competition entry.
SelfPubCon and Damonza.com do not accept responsibility for any damage, loss, liabilities, injury or disappointment incurred or suffered by you as a result of entering or accepting either the top prize or the book offered to every entrant; for any injury or damage to your or any other person's computer relating to or resulting from participation in or downloading any materials in connection with the Fix My Cover Competition.
SelfPubCon and Damonza.com reserve the right at any time and from time to time to modify or discontinue, temporarily or permanently, this Fix My Cover Competition with or without prior notice due to reasons outside its control (including, without limitation, in the case of anticipated, suspected or actual fraud). The decision of SelfPubCon and Damonza.com in all matters under its control is final and binding and no correspondence will be entered into.
SelfPubCon and Damonza.com shall not be liable for any failure to comply with its obligations where the failure is caused by something outside its reasonable control. Such circumstances shall include, but not be limited to, weather conditions, fire, flood, hurricane, strike, industrial dispute, war, hostilities, political unrest, riots, civil commotion, inevitable accidents, supervening legislation or any other circumstances amounting to force majeure.
SelfPubCon and Damonza.om accept no responsibility for entries that are misdirected or incomplete or cannot be delivered or entered for any technical or other reason.
The prizes are non-exchangeable, non-transferable, and not redeemable for cash or other prizes.
Entrants into the Fix My Cover Competition shall be deemed to have accepted these Terms and Conditions.