Mastering Online Author Events

Audience: All Levels
Online author events are here to stay. By going online, authors can reach beyond their physical location, find an audience primed to enjoy their stories, and raise their public profiles. Whether you're shy or gregarious, a hermit or a socialite, indie author and entrepreneur Cody Sisco will share strategies and tips for mastering online author events.
FREEBIE ALERT
Download your FREE Guide to Mastering Author Events!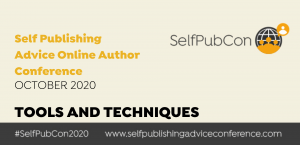 This is a post from the Tools and Techniques SelfPubCon. SelfPubCon (The Self-Publishing Advice Conference) is an online author event, run free twice-yearly, in association with the Alliance of Independent Authors. Join the conversation on Twitter: #selfpubcon

Mastering Online Author Events with @CodySisco at #SelfPubCon #selfpublishing #IARTG #ASMRG #bookpromo #bookmarketing #indieauthors Click To Tweet
Cody Sisco
Author/Publisher
Cody Sisco is an author, publisher, and literary community organizer.
As an author, Cody's speculative fiction straddles the divide between plausible and extraordinary. His Resonant Earth Series includes two novels thus far, Broken Mirror and Tortured Echoes, and a short story prequel, Believe and Live. Altered Bodies, the third volume in the series, is due out in 2020.
In 2017 Cody co-founded Made in L.A., an indie author co-op dedicated to the support and appreciation of independent authors. His imprint, Resonant Earth Publishing, markets and promotes the Made in L.A. annual fiction anthology.
Cody is a Los Angeles Review of Books / USC Publishing Workshop 2017 Fellow and a co-organizer of the Los Angeles Writers Critique Group. His startup, BookSwell, makes the LA literary landscape easier to navigate, introduces readers to new writing, and interweaves digital and real-life literary experiences.