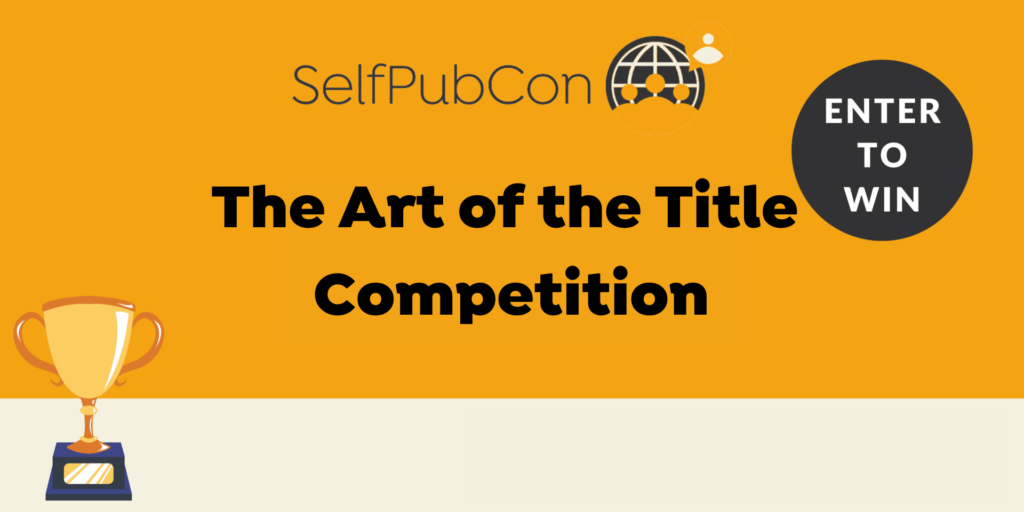 Attention authors! We are thrilled to announce our first-ever 'Art of the Title' competition. In this unique contest, your challenge is to convey an entire book in its title, in the most creative and compelling way possible.
Your title should evoke emotion, intrigue, and a sense of the whole book, be that a non-fiction how-to, a literary memoir, a poetry book, or a dramatic story.
We're looking for creativity, originality, and depth— in a handful of words. So, think beyond the ordinary, push the boundaries, and captivate us with the power of your title alone.
This competition is open to all indie authors, at any stage of their writing or publishing. There's no entry fee.
Submit your entries by Saturday 30th September 2023 for a chance to win a range of exciting prizes (more details below).
We can't wait to read what your imagination unfolds with just a few words!
Submission Requirements
Title: The title of your submission should stand alone and tell a story in and of itself. It can be up to 7 words long.
Synopsis: Alongside the title, provide a single paragraph (up to 200 words) that outlines the imagined book. This synopsis should not be a summary of the plot but a description of the broader themes, settings, and characters that the title suggests. It's about creating an atmosphere, not detailing a story.
Original Work: Your submission must be entirely your own original work and not infringe on the copyright of any other work.
Judging Criteria:
Creativity: This criterion will assess how unique and imaginative your title is. A winning title will need to be original and inventive, showing a fresh perspective or a creative twist on familiar themes.
Evocativeness: The best titles will evoke strong emotions or vivid images. They will catch the reader's attention and make them want to know more about the story.
Consistency Between Title and Synopsis: The synopsis should support and expand on the story suggested by the title. The best submissions will make the reader feel as though the title and synopsis come from a fully-realised, larger work.
Clarity and Craftsmanship: While this is a creative contest, correct grammar, spelling, and syntax are still important. The best entries will be well-crafted and clearly written, with every word carefully chosen to contribute to the overall effect.
The Art of the Title competition is about distilling the essence of a larger book into a single title and accompanying paragraph. It's a unique challenge and an opportunity to show off your writing skills in a whole new way!
Art of the Title Competition: How to Enter
Entry to the Art of the Title couldn't be easier. There is no entry fee. We just need your name, email address, and your title entry.
Entry to the Art of the Title Competition is now OPEN. We will announce the winners live during our Success Mindset for Indie Authors Conference (#SelfPubCon23). Register here for free 3-day access.
Here are the steps:
Craft your title and synopsis.
Submit your entry here.
The closing date is Midnight UK Time on September 30th 2023.
The winner will be announced online, across Facebook, Twitter and YouTube at our upcoming SelfPubCon.
Help us spread the word - we have ready made tweets and graphics you can use here!
SelfPubCon Art of the Title Competition: Prizes
Three runner-up prize winners, and one grand-prize winner, will choose services from a "Get It Written, Get It Published, Get it Read" package of services provided by ALLi Partner Members.
The prizes will be offer offered across the seven processes of publishing--editorial, design, production, distribution, marketing, promotion and rights licensing--and the winners will be given a list of prizes to choose from. Runners up choose one service each, with the grand prize winner choosing one from each of the service categories offered.
More information on the grand prize publishing package here (more prizes added daily).
SelfPubCon Art of the Title Competition: Terms and Conditions
The Art of the Title Competition is being run by the Self-Publishing Advice Conference (SelfPubCon), in association with the Alliance of Independent Authors (ALLi).
The Competition is open to working or aspiring independent authors aged 18 and over. No purchase or entry fee is necessary.
Employees, consultants or agencies of SelfPubCon, ALLi or their family members, or anyone else connected with the competition (including prize-givers), may not enter.
Only one entry per person.
You are permitted to submit work you have previously published.
Stories that do not meet the entry requirements will be disqualified.
The competition is open for entry at 00.01 hours (UK Time) on September 1st 2023 and closes at midnight (UK Time) on Saturday, September 30th 2023. Entries received after this date will not be considered.
The judging panel is Orna Ross, ALLi Director, and Kayleigh Brindley, SelfPubCon Manager. Winners will be announced on Saturday 21st, October 2023 live at SelfPubCon.
Competition entrants are automatically registered for SelfPubCon so they can attend the celebration and prize-giving.
Three (3) winners will be announced from all entries received in accordance with these Terms and Conditions, and one additional grand-prize winner.
Winners will be announced on the ALLi and SelfPubCon websites, The Indie Author ALLi's member magazine and in member and subscriber emails.
The winner may be required to take part in promotional activity related to the Art of the Title Competition and the winner shall participate in such activity on SelfPubCon's reasonable request. The winner consents to the use by ALLi and SelfPubCon, both before and after the closing date for an unlimited time, of the winner's voice, image, photograph and name for publicity purposes (in any medium, including still photographs and films, and on the internet, and in advertising, marketing or promotional material.
Legal T&Cs
All entrants agree to receive emails from SelfPubCon containing news and offers, and updates of interest. You can unsubscribe from these emails any time by clicking the link in the email footer.
By entering the Art of the Title Competition, you agree to the collection, retention, usage and distribution of your personal information in order to process your entry and that we may contact you about your Art of the Title Competition entry.
SelfPubCon/ALLi do not accept responsibility for any damage, loss, liabilities, injury or disappointment incurred or suffered by you as a result of entering or accepting either the top prize or the book offered to every entrant; for any injury or damage to your or any other person's computer relating to or resulting from participation in or downloading any materials in connection with the Art of the Title Competition.
SelfPubCon/ALLi reserve the right at any time and from time to time to modify or discontinue, temporarily or permanently, this Art of the Title Competition with or without prior notice due to reasons outside its control (including, without limitation, in the case of anticipated, suspected or actual fraud). The decision of SelfPubCon/ALLi in all matters under its control is final and binding and no correspondence will be entered into.
SelfPubCon/ALLi shall not be liable for any failure to comply with its obligations where the failure is caused by something outside its reasonable control. Such circumstances shall include, but not be limited to, weather conditions, fire, flood, hurricane, strike, industrial dispute, war, hostilities, political unrest, riots, civil commotion, inevitable accidents, supervening legislation or any other circumstances amounting to force majeure.
SelfPubCon/ALLi accept no responsibility for entries that are misdirected or incomplete or cannot be delivered or entered for any technical or other reason.
The prizes are non-exchangeable, non-transferable, and not redeemable for cash or other prizes.
Entrants into the Art of the Title Competition shall be deemed to have accepted these Terms and Conditions.