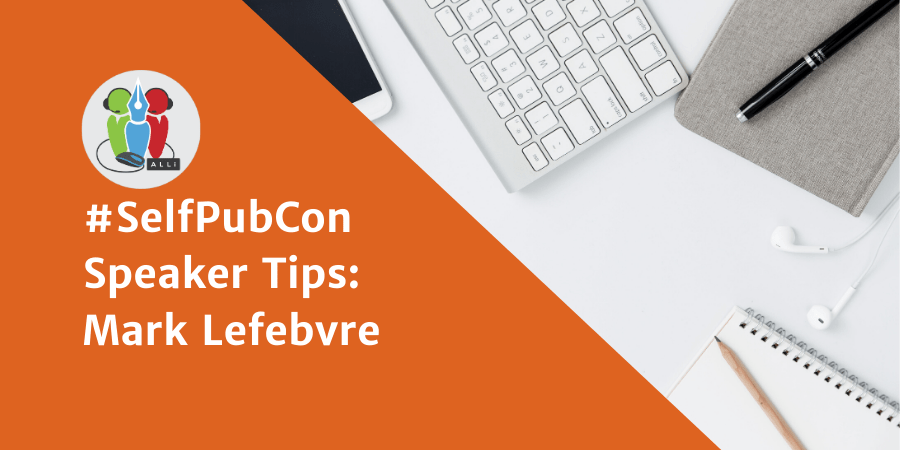 #SelfPubCon Speaker Tips: Mark Lefebvre
Welcome to the next in the series of quick self-publishing tips from our upcoming speakers at the Alliance of Independent Authors Self-Publishing Advice Conference in association with London Book Fair. The conference count down continues, March 14-15th, 2020 is just a few weeks away, so what better way to continue the series than with a tip from bestselling author, speaker and bookseller Mark Lefebvre on writing mindset and giving back.
Mark Lefebvre's Quick Tips
---- TIP 1 ----

There is a quote from Hugh Prather that has long hung on the wall near my writing space. It reads:

"If the desire to write is not accompanied by actual writing, then the desire is not to write."

When I first started writing, it was a reminder of what drew me into writing in the first place; and of the importance of actually engaging in the process of filling the blank page with words. That, to me, has always been the most satisfying element of being a writer. As the years have passed, and admin and marketing activities seem to get in the way of the actual production of new writing by constantly competing for my time and attention, that same quote is a plain and simple reminder that the best way to market your existing writing is to create new writing. And you can't create new writing if you are not accompanying that desire to write with actual writing. It's great to stay on top of and learn new opportunities, new marketing strategies, but without continuing to actually write, to actually create new content, you are not actually progressing on your own writer journey.

---- TIP 2 ----

One of the odd paradoxes of being successful at selling is when you are not actually selling. It's when you are making the right connections and focusing on giving to the community. In the same way that social media pundants state that 80% of your activity should be about engaging and giving to the community, and 20% should be about asking or selling, the same thing is true when it comes to interacting within the writing community, whether it is other writers or with the various retail platforms your books are selling through. People don't buy books, they buy experiences. And they often buy experiences from those they respect and trust. An author who is a vibrant part of the community and is focused on giving and on cultivating relationships stands a much better chance of making the connections necessary for long term success; of being at the top of mind at the right time.
More about Mark Lefebvre
Mark Leslie Lefebvre is an author, professional speaker and bookseller with more than a quarter century of experience in writing, publishing, and bookselling. He has been involved in self-publishing since 2004 and has fully embraced a hybrid publishing approach that incorporates his understanding of the business of publishing and bookselling. A former president of the Canadian Booksellers Association, a former board member of BookNet Canada, and the former Director of Self-Publishing & Author Relations for Rakuten Kobo, Inc., Mark is currently the Director of Business Development for Draft2Digital, sits on the Professional Advisory Committee for Sheridan College's Creative Writing & Publishing Degree program and independently supports authors at multiple stages of their writing careers. Mark shares his insights and ongoing learnings about the business of writing and publishing on his weekly podcast, Stark Reflections on Writing & Publishing, which started in January 2018.