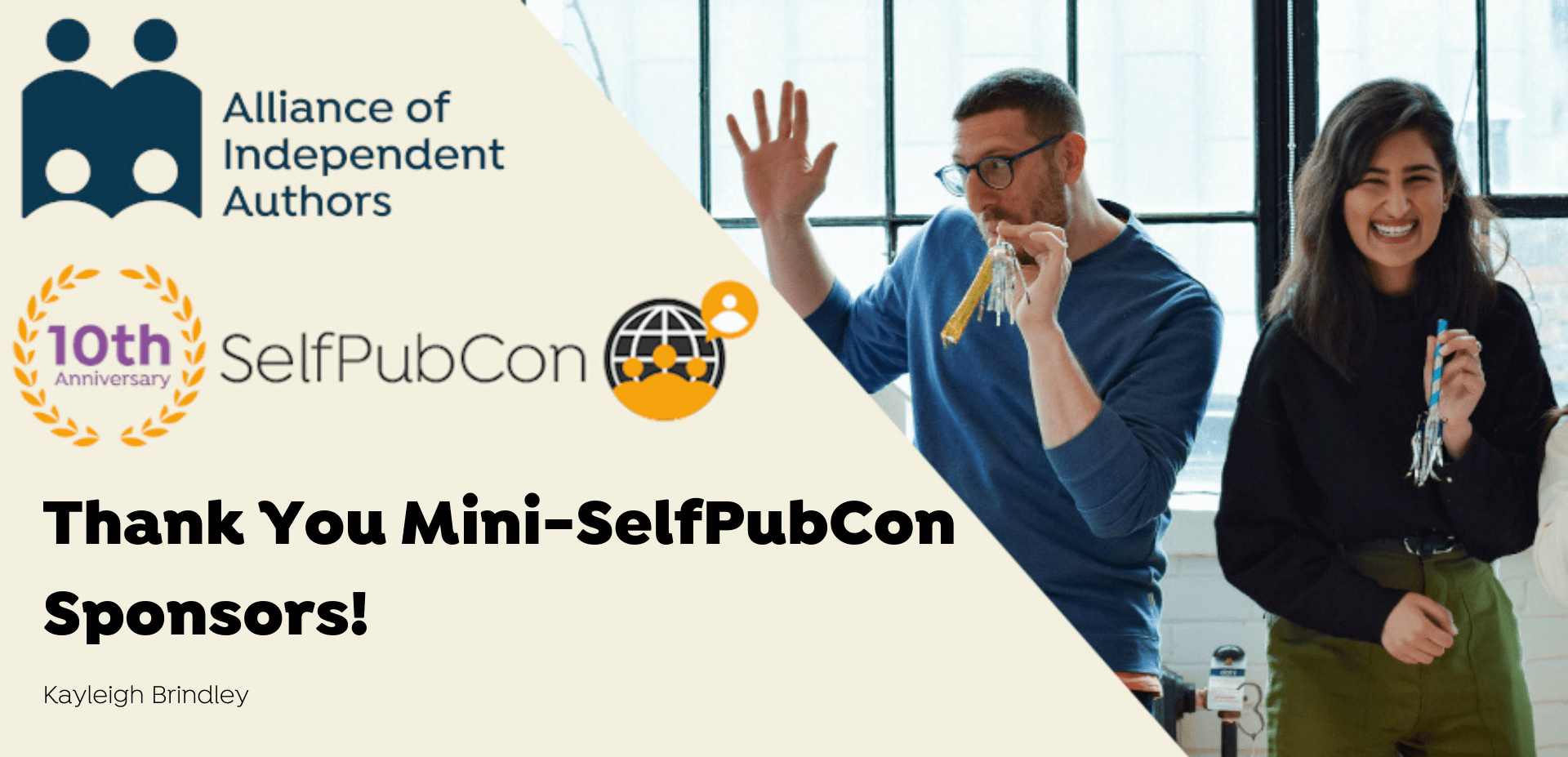 Thank You Mini-SelfPubCon Sponsors!
ALLi's Tenth Anniversary Mini-SelfPubCon (#SelfPubMiniCon22) is taking place this Saturday, 16th April from 6pm to 10pm (UK time) and it would not be possible without our wonderful sponsors and speakers, who freely give their time to prepare advice presentations for #SelfPubCon attendees. We're hugely grateful!
Our agenda is now live, so you can view every session and check start times here.
Mini-SelfPubCon begins on Saturday 16th April at 6pm (UK time).
That's 7am (HST), 10am (PDT), 1pm (EDT), 7pm (CEST), and 3am Sunday 17th April (AEST).
You can find the exact start time and date for you here.
Don't worry if you can't attend live, the conference is free to all for 24-hours (no login needed).
SelfPubCon sessions this time out include everything from how indie authors can make the most of the creator economy, to an interview with the founders of Smashwords and Draft2Digital and what the merge means for indie authors — and everything in between.
We'd like to give a special shout out to the sessions brought to you by SelfPubCon's sponsors:
3 top-flight author panels from platinum sponsor, Amazon KDP -- Nicola May, JD Kirk, LJ Ross, Darren Hardy and Rachel McLean are interviewed by Amazon's Darren Hardy and Michaella Parkes -- on Finding readers and publishing success through Kindle Direct Publishing
Ten-word Story Competition Prize-Giving and Reading of the Winning Stories with Tara Kremin, Director of Kobo Writing Life, our Silver sponsor.
Digital Tools to Help Authors Reach More Readers with Joshua Schwartz from Pubvendo (Specialist Sponsor)
We'd also like to say a big thank you to our gold sponsor, IngramSpark!
Giveaways
Our fantastic sponsors and ALLi partner members are also offering some really fantastic giveaways and discounts for all #SelfPubMiniCon22 attendees. Here's a look at what's on offer:
Kobo Writing Life is awarding e-readers to the winners of our Ten-word Story Competition!
Pubvendo is kindly offering one full digital strategy report and audience dataset tailored to the winning author's book and author brand. The giveaway will include a 45 minute 1:1 session to review the digital strategy and action items with Pubvendo's CEO (Joshua Schwartz).
BooksGoSocial is giving away 9 free places on NetGalley.com for a month to help get reader reviews!
Book Award Pro is offering a free month of their Pro service (valued at $199), which includes a complete award submission for one lucky author.
Missed our previous update, where we reveal our full speaker line-up and agenda for the day? Find it here.
In the meantime, happy writing and publishing.
Kayleigh
SelfPubCon Conference Manager