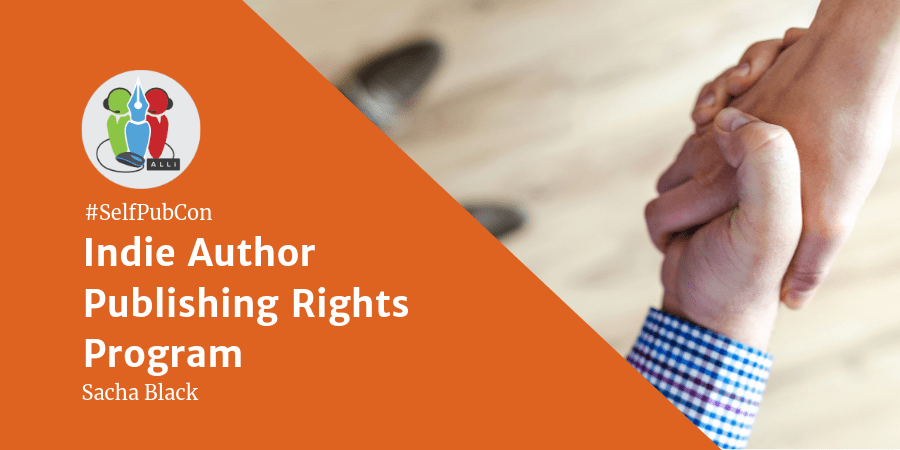 Indie Author Publishing Rights Program
Hey everyone, I hope you're getting excited for the Self-Publishing Advice conference. It's just a few days away now so I thought I'd take a hot minute to tell you all about a particularly special project that's going to be part of the conference. The Alliance of Independent Authors, in association with Michael and Judith Anderle of LMBPN and 20Books to 50K, is launching an exciting Indie Author Rights Program, which will run across the next six months. The program will launch at the Self-Publishing Advice Conference but here's a sneak peek of to expect and who's participating.
What is the Indie Author Publishing Rights Program?
The Indie Author Publishing Rights Program aims to open up the rights industry to indie authors through a publicly accessible education and coaching program, which will run over the next six months.
The program's aim is to help a group of indie authors to set up to properly pitch translation rights at London Book Fair 2020, with the hope those meetings and potential deals lead to the sale of translation rights.
A panel of experts (see below) will meet with the authors every four weeks between now and the London Book Fair in March 2020 for coaching sessions that will be recorded on video. Between sessions, the authors will work independently to prepare their rights guides, pitching materials and set up meetings and proposals.
The sessions will be recorded so other authors can share in the learning, following alongside the pathway our panel of indie authors will take.
Meet the Panel
Michael and Judith Anderle, LMBPN
Michael Anderle is a Dragon Award finalist as co-author with Mr. Craig Martelle for the Best Military Science Fiction novel of the year for 2018. As an independent author, he is usually ranked in the top 100 authors in the Amazon store and in 2017, Apple news posted an article by BookRiot naming Mr. Anderle among the top 20 fan favorite independent authors. Mr. Anderle is considered an industry expert, recently been featured in Publisher's Weekly, and is asked to speak or lead several industry panels including in conferences such as WorldCon, DragonCon, SelfPubCon and the conferences run by 20Books to 50K, a FAcebook group he established two years ago which now has over 27,000 author members.
Mr. Anderle has sold over 3,000,000 books worldwide either under his name alone or as a collaborator with other well known authors.
Find out more about Michael and his team here: Website, Facebook.
***
Ethan Ellenberg, President of The Ethan Ellenberg Literacy Agency
Ethan Ellenberg is the lead agent at The Ethan Ellenberg Literary Agency which was established in 1984 by Ethan Ellenberg who was previously a contracts manager for Berkley and associate contracts manager for Bantam. Since its inception the agency has represented several bestselling authors, career novelists, and professional writers. In addition to new and published authors, the agency also represents rights on behalf of publishers and literary estates. The agency is an independent full-service agency with robust sales in subsidiary rights and partnering agents all over the world. The agency is a member of the Association of Authors Representatives, an affiliate member of the Science Fiction and Fantasy Writer's of America, and an associate member of the Society for Children's Book Writers and Illustrators, The Romance Writers of America, and the Mystery Writers of America.
Royalty Reminder is a SAAS software startup built on the software the Ellenberg agency created to manage all of the intellectual property in its care--contracts, licenses, etc.  Version 2.0 will include an enterprise suite that will enable Hybrid and Indie Authors to manage the production, distribution, marketing and licensing of their books.
Find out more about Ethan Ellenberg here.
***
Jon Malinowski,
President of the Combined Book Exhibit (CBE) and the founder behind PubMatch
Jon Malinowski is the President of the Combined Book Exhibit (CBE) and the founder behind PubMatch. Jon's passion for the publishing industry started early in life after an internship at the Combined Book Exhibit in the 1970's when his father was at the helm of the company. After graduating from Bradley University, Jon officially joined CBE and rose through the ranks quickly to become head of the marketing department. In 1983, Jon took over as President of the company and under his leadership, CBE has facilitated thousands of publishers and other businesses related to the publishing industry at book fairs around the world. Jon now oversees 15 international and domestic events annually, and has successfully led groundbreaking U.S. publishing missions to China, the United Arab Emirates, Saudi Arabia, Qatar and Cuba. He also was instrumental in establishing the Middle East Library Association in partnership with the American Library Association and the Sharjah International Book Fair. After many years at the helm of CBE, Jon perceived a growing need in the publishing industry for a global rights resource, and in 2008, founded PubMatch – the first online rights toolkit for publishers, agents and authors. Since its launch, Jon partnered with Publishers Weekly and the company has grown to over 10,000 authors, publishers and agents in over 150 countries.
Ryan Dreher, PubMatch
Ryan Dreher is Business Development Director for PubMatch. He began his career in the publishing industry as a junior literary agent and subsequently as Foreign Rights agent for Rights Unlimited Inc. Subsequently, he worked in the area of Cuban and Latin American tourism, international music festivals, entertainment and publishing tradeshows and consulting.
Find out more about PubMatch here.
***
Let's Meet the Authors...
Orna Ross
Orna is representing both Poets and poetry rights sales as well as being a member of the coaching panel in her role as Director of the Alliance of Independent Authors.
Orna Ross is a bestselling and award-winning novelist and poet and founder of two online creative communities: the Alliance of Independent Authors and The Creativist Club. A storyteller, word lover and creative connector, she shows indie authors and other creative entrepreneurs how to make a living doing the work they love… the creative way.
Find out more about Orna one her Website, Twitter, Facebook, or Patreon.
***
Barry Hutchison
Barry Hutchison is a man of many faces. Having spent a decade writing children's books under several different pen names, Barry switched to indie publishing in 2016, and has never looked back. His 'Space Team' comedy sci-fi series, written under the name Barry J. Hutchison, has sold over quarter of a million ebook copies worldwide, and has spawned a spin-off series, several audiobooks, and even a range of merchandise. A comic book mini-series is currently in development.
In May 2019, Barry published his first crime thriller, 'A Litter of Bones,' under the name JD Kirk. Soon after publication, the book started outselling all his other books combined, and has since become a #1 Amazon Bestseller. OK, it was #1 only in Australia, but he insists that still counts. The third book in the series is published on August 31st, and has double the personal pre-order record set by book two.
Barry (or whatever he's calling himself this week) lives at the foot of Ben Nevis in the Highlands of Scotland with his wife, two children, and one annoying dog. He regularly speaks about writing at schools and festivals across the UK, sharing his love of stories with audiences of all ages.
You can find out more about Barry Hutchinson here:
***
Dakota and Danielle Krout
Dakota and Danielle Krout, a husband and wife team, strive to create as well as publish excellent fantasy and science fiction novels. Together they own and operate an indie publishing house, Mountaindale Press, which focuses on LitRPG and GameLit titles.
Dakota is a best-selling author, drawing on his experience in the military to create vast terrains and intricate systems. His history in programming and information technology help him bring a logical aspect to both his writing and his company while giving him a unique perspective for future challenges.
Danielle earned a PhD in Pharmacology, and now puts her research skills to use in all aspects of publishing. From market research to multi-platform marketing, she works tirelessly to ensure the future success of Mountaindale Press.
You can find out more about Dakota and Danielle Krout here:
***
Skye MacKinnon
A little more about Skye:
Skye MacKinnon is a USA Today & International Bestselling Author whose books are filled with strong heroines who don't have to choose. She embraces her Scottishness with fantastical Scottish settings and a dash of mythology, no matter if she's writing about Celtic gods, cat shifters, or the streets of Edinburgh. When she's not typing away at her favourite cafe, Skye loves dried mango, as much exotic tea as she can squeeze into her cupboards, and being covered in pet hair by her two bunnies, Emma and Darwin.

She also writes magical books for children and young adults as Isla Wynter.
You can find out more about Skye on her:
Website, Facebook, Twitter, Instagram.
***
Joe Cawley
Joe is an award-winning travel writer, best-selling author of 5 books, ghostwriter, and under-appreciated taxi driver for his two teenage children.
He splits his time between the UK, and a tiny village on the western slopes of Tenerife where he retreats with his family and an assortment of other wildlife.
Joe's  words have appeared in just about every national newspaper in the UK, including The Sunday Times, Telegraph, Guardian and Express, plus some Johnny Foreigner publications such as the New York Post and Taipei Times.
His first memoir, More Ketchup than Salsa: Confessions of a Tenerife Barman was voted 'Best Travel Narrative of 2007' by the British Guild of Travel Writers.
You can find out more about Joe on his:
***
Sacha Black
Last but by no means least, is me! I'm organizing the program and ensuring we deliver any and all lessons learned on this journey. I'm also making sure that authors who aren't quite ready to sell rights but are keenly interested in the process are also represented on the panel.
Sacha Black is a bestselling and competition winning author, developmental editor and writing coach. She's the author of the popular YA Fantasy 'Eden East' novels and a series of non-fiction books that are designed to help writers develop their craft. She lives in Hertfordshire, England, with her wife and son.
Don't forget, if you haven't registered to attend #SelfPubCon yet, there's just a few more days to go. Register now by clicking
here
.