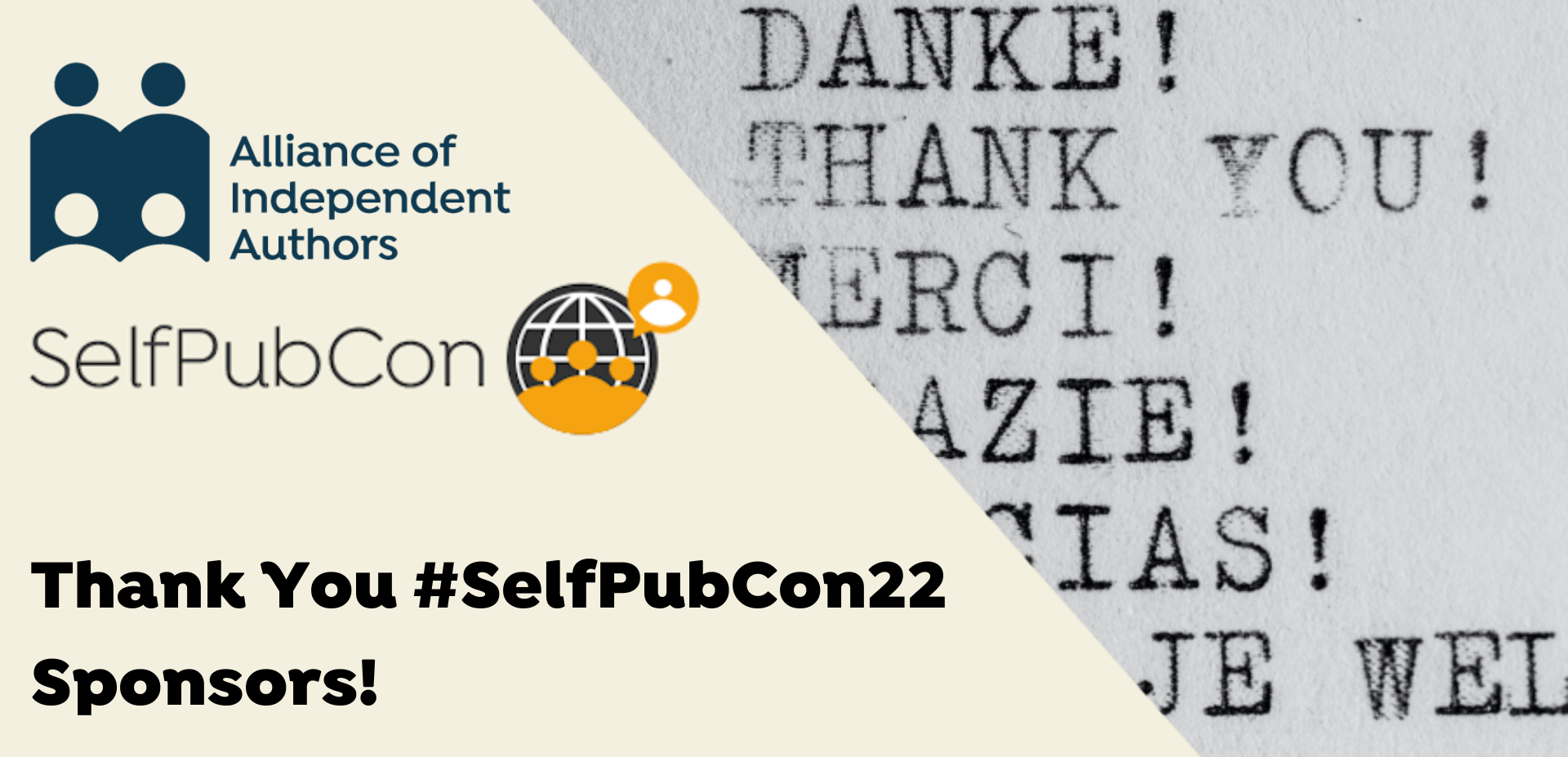 Thank You #SelfPubCon22 Sponsors
Our Self-Publishing Advice Conference would not be possible without our wonderful speakers and sponsors, who freely give their time to prepare advice presentations for #SelfPubCon22 attendees. We're hugely grateful to our #SelfPubCon22 sponsors in particular, without whom SelfPubCon just couldn't happen!
Our agenda is now live, so you can view every session and check start times here. You can also download a copy of the agenda here.
SelfPubCon sessions this time out include everything from how to emotionally reach your readers while writing your books to building a sustainable publishing business and driving global sales — and everything in between.
We'd like to give a special shout out to the sessions brought to you by SelfPubCon's sponsors:
A top-flight panel from platinum sponsor, Amazon KDP on Connecting with Readers and Driving Sales on Amazon KDP
Get insights into the opportunities associated with thinking globally with gold sponsor Ingram Spark 
Join Nick Stephenson and Orna Ross for a Fireside Chat on Author Collaboration and The Reader Journey, sponsored by silver sponsor, Bowker.
In Websites That Reach Readers, Pauline Wiles shows you how to create or update your online home, sponsored by silver sponsor Damonza.com
Michael Webb shows you How to Reach Readers from a Standing Start, in this session sponsored by bronze sponsor, Thoth Editing
How to Emotionally Reach Your Readers with Jeff Elkins, sponsored by Purple Ninja Editorial
Building a Sustainable Publishing Business with Becca Syme, sponsored by Digital Authors Toolkit
Learn about free and paid tools to help you better understand your target readership in Free and Easy Reader Research Tools with Jane Friedman, sponsored by Girl Friday Productions
Find out who won our extremely popular First Line Competition as Orna Ross and Tara Cremin announce the awards, sponsored by Kobo Writing Life. And check out Tara's session, Four Kinds of Digital Reader: Are you Reaching Them All?
Giveaways
Our fantastic speakers and sponsors are also offering giveaways, competitions, and discounts for all #SelfPubCon22 attendees. Here's a look at some of what's on offer:
Kobo Writing Life is kindly sponsoring our big First Line Competition (entries now closed) and offering fantastic prizes for the winners.
Damonza.com are bringing an exclusive Fix Your Cover competition for #SelfPubCon22 attendees.
IngramSpark are offering a range of free downloads and resources to support their session on going global.
Lots of our speakers are also giving away books, courses, and services - enter during the conference to be in with a chance of winning!
You'll also have access to workbooks, downloadable resources, and more!
Look out for our next post where we'll tell you everything you need to know to attend #SelfPubCon22
In the meantime, happy writing and publishing.
Kayleigh
SelfPubCon Conference Manager